Features & Benefits of our business class email services:
SmartPhone Friendly Email: Keep your mobile users connected with push technology email for: BlackBerry®, iPhone®, iPad, iPod touch, Android®, and Windows Mobile®, etc.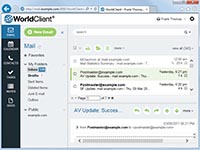 ICT Web-Based Email Client provides easy access to your inbox, calendar, contacts, tasks, notes, and documents from the office, home, or any location that has Internet connectivity.  WorldClient sends and receives messages from any connected computer, smartphone, or tablet using a web browser such as Internet Explorer, Chrome, Firefox, Opera, and Safari. It runs on computers equipped with Windows, Mac OS X, and Linux. (the new client interface is coming March 23. 2015)
Automatically Organize Messages
Drag and Drop Email Attachments
Inline Image Support in HTML Messages
Public and Private Address Books
Calendar with Free/Busy Integration
Side-by-Side Calendar View
Share and Manage Documents
Contacts and Distribution Lists
Email Notification with Instant Messaging
Automatic Address Book Synchronization
Installing Instant Messaging from WebMail
Sync Calendars/Tasks/Contacts/Mail/Notes
Discount Pricing Available for Hosting Customers
Contact Us to Activate now!
iPhone / iPad®

BlackBerry®

Android®



IMAP/ActiveSync Setup
WebMail (Web-Based Email)

Windows Mobile / Windows Phone®



IMAP/ActiveSync Setup
WebMail (Web-Based Email)
ActiveSync provides the highest level of integration for the latest mobile devices, including iPhone / iPad, BlackBerry 10, Android, and Windows Mobile / Windows Phone. It is also available on most other mobile platforms. ActiveSync also minimizes the amount of data that is sent over the mobile network.
Anti-Spam & Virus Protection: Automatically eliminates 90% of spam and email viruses before they ever reach your inbox, spam is no longer a problem.
Anti-Theft Control: Greatly protects your email accounts from being hacked by automatically locking out the ip address trying to access your email account after multiple failed attempts.
Authenticated SMTP: Authenticated SMTP service for customers to send email from any Internet connection, also solves common problems many people run into including:
SMTP services on port 25 being blocked
ISP's not allowing customers to send email using their own domain name
Restricted service for ISP customers only
SPAM blacklisting
Secure WebMail Access (https://): Secure access to email account(s) to send and receive email, management interface to add/edit/delete accounts through any web browser securely from any Internet connection and/or SmartPhone. Misc. Features: Password Retrieval (In case you forget your password), Auto Responders (holiday messages), Text Filtering (Junk folder), Unlimited Forwarding, Multi-Language, Save copies, etc.